Welcome
Hello and welcome to our website. We created this page to help keep everyone up to date with the latest developments leading up to our wedding day!
We are excited to invite you to join us as we begin building our new future together. Each of you plays a unique role in our lives and we share many great memories. So we hope you can join us in Orlando, Fl for yet another unforgettable moment.
We hope that this page provides you with all the information you will need to come and enjoy our special day with us. If there is anything specific you are unsure of please give either of us a call and we will have an answer for you. We look forward to seeing all of you!
All our love,
Bethany and David
Our Story
How We Met
Our first date was great! We met at a bar and started talking about jobs, school, beer, our mutual love of Lord of the Rings, and any other subject we could think up. What really amazed me was how easy it was to talk to a stranger. I am so grateful I met David and cannot wait to see what the future holds for us!
The Proposal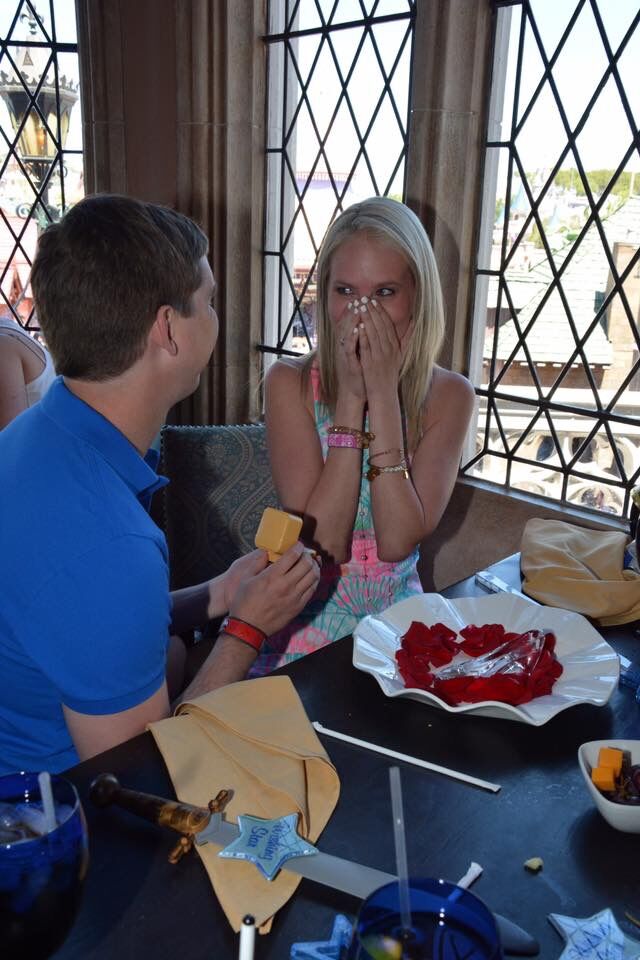 I knew that I wanted to marry Bethany about nine months after we started dating and I wanted it to be the perfect surprise for her. So I coordinated with three of her best friends and planned a "surprise" trip to Disney World on Bethany's birthday. The first big surprise was having Karly fly in to meet us "for her Birthday". The next day we went to the Magic Kingdom and I surprised Bethany with lunch at Cinderella's castle. After we ate the waitress brought out a silver tray and told us that the chef had prepared a "special dish" which turned out to be a glass slipper on a bed of red rose petals. Bethany stared at the glass slipper, trying to figure out how she was going to eat it. And as she turned to look at me, I dropped down on one knee and asked her to marry me. I don't think I've ever seen someone more speechless; her mouth dropped open, her hands went up to her face, she started crying. Eventually she said yes, but the look of pure joy and happiness on her face as she said "yes" is one that I will cherish for the rest of my life.
The Wedding
Sunday, September 3, 2017
5:30 PM
Ceremony
Wyndham Grand Resort Bonnet Creek
14651 Chelonia Parkway, Orlando, FL, United States
Reception
Wyndham Grand Resort Bonnet Creek
14651 Chelonia Parkway, Orlando, FL, United States
Wedding Party
Karly - Maid of Honor
Karly has been one of my closest friends ever since we met as freshman in college. No matter what happens in life this girl is always right there by my side. Even though we are now separated by 845 miles, we are still as close as ever and I couldn't be luckier to have a friend like her standing by my side on my wedding day!
Stephanie - Bridesmaid
Stephanie and I grew up together in West Palm Beach and quickly became sisters. Over the years we have spent holidays together, moved across Florida together, and experienced the joy becoming nurses together. There is no way I could get hitched without my sister by my side!
Jaime - Bridesmaid
Jaime and I go all the way back to the first day of nursing school. After two years of late night studying, hours of clinicals, and too many final exams to count, we finally made it! Looking back, I realize I couldn't have done it without her. She is an amazing friend and I love her to pieces!
Tulika - Bridesmaid
A few years ago Tulika and I met while working at UF's Student Healthcare Center. We instantly bonded over our mutual love of Bang Bang Shrimp and TV shows. Over the years we have only grown closer with our countless shenanigans and constant laughter. She is one of the sweetest people I know and I am excited to have her standing by my side on my big day.
Erin - Bridesmaid
I can't believe it has been almost 10 years since we were marching around in circles thinking how UF's marching band needed an air-conditioned practice field. We quickly hit it off and have been inseparable ever since. From marching band to college roomies Erin and I have been through it all. I am lucky to have such a loyal friend and couldn't get married without her!
Jessica - Bridesmaid
Although I haven't known Jessica very long, I can't wait to be her sister-in-law! She is incredibly sweet and I am excited to be joining such a wonderful family.
Anthony Vila - Best Man
Anthony and I met in Vanderbilt's marching band freshman year of college. Through the years we've bonded over board games, a mutual love of southern cooking, and the heartbreak that is being a Vanderbilt sports fan.
Matthew Dempster - Groomsman
Matt and I met in middle school and became fast friends devoted to driving our parents crazy. No matter the distance we've always made sure to stay in touch, especially when discussing our favorite terrible horror movies.
Daniel Ohngemach - Groomsman
Dan and I met at Vanderbilt and truly became friends by repeatedly insulting one another while playing Halo in the early hours of the morning. Despite the fact that half of our conversations end with a third party begging for a change of subject, we've always managed to agree on one thing; Anthony loves emo music.
Zachary McAnally - Groomsman
Zach and I met as freshmen at Vanderbilt and I will always be grateful for his introducing me to the wonders of classic rock. We truly bonded over a mutual love of bursting into song in public for absolutely no reason and finding little ways to playfully irritate Dan.
John Moore - Groomsman
John and I met in law school and became friends over the horrors of finals and an intense desire to win at everything, especially Mario Kart. His drive and unique sense of humor helped get me through law school and the Bar Exam.
Kevin Burson - Groomsman
I met Kevin my sophomore year at Vanderbilt in the trumpet section of the Spirit of Gold. Much to everyone else's amusement, we became fast friends as the only two sarcastic trumpet players from North Carolina who loved Billy Joel.